Download the free Quicktime video preview of the Home Kickboxing Video Series as Seen on NBC, CBS, FOX, VH1 and CNN. The special 2 video set and pricing is only available through the television offer. The Special Televison Offer is available online - Save $13.00 (Click here)
Click on image below to download the preview.
---------------------------------------
(4.5Meg Quicktime Movie File - kickbox.mov)
Flier with Video Descriptions - Click to download Adobe Acrobat PDF file containing flier for Videos.
---------------------------------------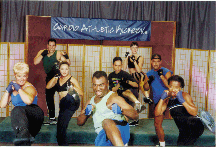 Click on image to order the Cardio Athletic Kickbox Videos
Free t-shirt not included with the Television Offer